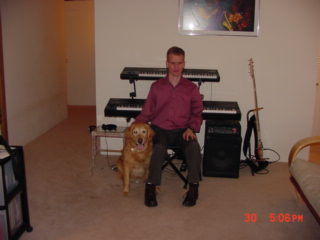 This page contains music I have played, some of which is original.
My History with Music
I began playing piano around 1981, at the age of four years old, after showing interest in the different sounds my parent's baby grand piano made. I had an incredible piano teacher, Gail Smith, who made it possible for me to feed my love and interest in music! I always improvised classical songs, and Gail had to get me back on track with the song as-written.
In 1990 I played piano in eighth grade orchestra, which was my gateway into jazz and funk and even a little country - this was so-long playing classical music for me.
In 1991 my parents purchased me a Korg M1 keyboard, and I had a great time playing in high school jazz band and starting a DJ business with my brother. The DJ business wouldn't have been possible without the encouragement, transportation, and financial support of mom and dad, and help and love of my brother Steve. I used a built-in sequencer on the M1 keyboard to create multi-track (piano / bass / drums / …) music, but the length of those songs were limited by the keyboards internal memory.
In 2002 I purchased a Roland XV-88 synthesizer with SRX-01 (dynamic drums) and SRX-02 (concert piano) expansion boards, which were a big improvement to my available sounds. I use computer MIDI sequencing software to record multiple tracks from the Roland XV-88. I started out using the Power Tracks sequencer , then switched to the Quick Windows Sequencer (QWS) in 2006 thanks to Andre Louis.
Around 2012 I wasn't creating music as often, and I sold my gear in 2016 when we began traveling the US and living as nomads. We paused our nomad life in September 2019 to address Michelle developing a spontaneous CSF leak, shortly after which the COVID-19 pandemic began. Feeling a renewed interest in music and knowing we would be staying put for a while, I purchased a Komplete Kontrol S61 MK2 keyboard and some software instruments to make music again.
-