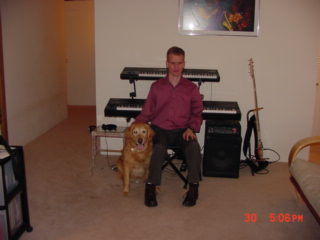 This page contains music I have played. I still love to play, but I haven't arranged songs and recorded / posted them online in a while.
My History with Music
I began playing piano around 1981, at the age of four years old, after showing interest in the different sounds my parent's baby grand piano could make. In 1990 I played piano in eighth grade orchestra, which was my gateway into jazz and funk and even a little country - so long classical music, and always wanting to improvise classical songs. In 1991 my parents purchased me a Korg M1 keyboard, and I had a great time playing in high school jazz band and starting a DJ business with my brother. The DJ business wouldn't have been possible without the encouragement, transportation, and financial support of mom and dad. In 2002 I purchased a Roland XV-88 synthesizer with SRX-01 (dynamic drums) and SRX-02 (concert piano) expansion boards, which were used to produce most of the music posted here.
I use computer MIDI sequencing software to record multiple tracks (piano, bass, vibes, Etc) from the Roland XV-88. I started out using the Power Tracks sequencer , then switched to the Quick Windows Sequencer (QWS) in 2006 thanks to Andre Louis.
Today there are all sorts of software synthesizers and computerized effects which make it possible to play a gig with a MIDI controller, a laptop, and some MIDI interfaces. I'm content not to have music gear at this point in my life though - see the about page for more…
-